At GVK BIO,' Safety, Quality and Compliance' come before Business – this is a philosophy driven by the leadership team. The quality team reports directly to the CEO and is independent of any business unit to ensure independence of operations and control. The executive committee of the company regularly hold QRM (Quality Review Meetings) to ensure Quality is given the highest importance in the company.
The concept and design of the quality system is harmonised across the organisation to offer utmost compliance to all applicable national and international quality and regulatory standards. The flexibility in regulatory and quality standards for early phases of drug discovery and development is built according to the internal standards to meet regulatory expectations, yet to ensure that the pace of discovery and development processes are not hindered.
The quality and regulatory standards at GVK BIO are designed to comply with the global regulations. The standards set by USFDA, PMDA, MHRA, TGA, TPD, etc. are our prime reference and form the backbone of our quality systems. In addition, we consult ICH (Quality, Safety and Efficacy guidelines), ISPE, PIC/S, Indian drug standards, etc. to ensure harmonisation of law to the maximum possible extent.
The Quality system design at GVK BIO has inbuilt controls to enforce the compliance to each activity we perform with a prime focus on critical quality attributes and key quality parameters. The dedicated and trained quality teams are engaged throughout the activity at various divisions of Discovery, Development and Manufacturing (e.g. Medicinal chemistry, Process optimisation/Development, Biology, Custom chemical synthesis, Late phase product development, Manufacturing, Formulation development etc.) ensuring that all our activities offer utmost regulatory and quality compliance.
At GVK BIO we ensure the involvement of management in every critical aspect of quality and compliance including the health of quality systems through various 'quality metrics', feedback on key 'quality indicators' through formal management review programs to drive and promote 'Quality culture' across the organisation and teams.
GVK BIO's manufacturing division has gone through several regulatory inspections from USFDA, EDQM, PMDA, WHO, MFDS among the others. We have bee ascertained to be compliant with the applicable standards. Numerous client inspections including many multinational companies for discovery, development and manufacturing operations have shown GVK BIO to be a regulatory and quality compliant organisation with a prime focus on continual improvement.
To realise our vision of being a global leader, we ensure that our services adhere to the highest standards at par with global quality standards and even setting new benchmarks. Each employee at GVK BIO makes a commitment to excellence in quality performance, which is achieved by:
Consistently meeting or exceeding our client's quality requirements
Being on time to meet our client's need always
Continuously improving our systems and processes
Ensuring that proper training is provided to serve our clients better
Recognising that quality is not just another goal, but a basic strategy for survival and growth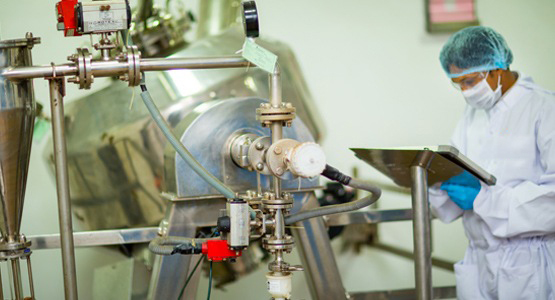 Quality System
Master Validation Plan

SOPs/Guidelines For All Activities

Vendor Qualification

Product Release

Out of Specification (OOS), Out of Trend (OOT), Change Control

Complaint Redressal

Periodic Internal Audits

cGMP Training