GVK BIO provides comprehensive, cost-effective Drug Metabolism and Pharmacokinetics studies – DMPK Studies support across the drug discovery paradigm for evaluating and optimizing the drug-like properties of new chemical entities. Our unique DMPK expertise lies in incorporating customized innovative approaches and advanced technologies such as high throughput screening to provide decision-enabling high-quality data with rapid turnaround times. Our highly efficient onsite bioanalytical setup, has no bottlenecks in producing large volume of data. We have the local presence of Charles River and Taconic animals, which help in providing the highest quality PK data from our AAALAC accredited vivarium. Our Project Management and Logistics teams make the journey from compounds shipment to results sharing seamless for us and the clients. Our DMPK screening services team works collaboratively with our customers, providing all needed scientific planning, execution, feedback and direction to advance their drug discovery programs. Looking forward to being your scientific partner in optimizing the druggability of your compounds.
Our DMPK studies team works with the objective that no development candidate should fail in the clinic due to an unforeseen efficacy, metabolic, pharmacokinetic or toxicity properties. We provide DMPK studies and bioanalytical/pharmacokinetic studies that span all stages of drug discovery, including exploratory, hit-to-lead, lead optimization and candidate selection, as well as the preclinical IND-enabling studies. So, leverage on our ADME/DMPK services that help you make informed decisions.
DMPK group comprise of In Vitro, In Vivo, met-ID and pre-formulation groups managed by highly experienced and matured scientific team. Our DMPK screening services meet the highest standards of professional performance to satisfy the unique requirements of our clients. We work closely with our clients to identify their requirements and clarify their expectations, including cost and time constraints. Our DMPK Studies team has published several research articles in peer reviewed international journals and presented posters in conferences.
With our range of DMPK assays we can help you identify and mitigate against ADME related issues very early in your drug discovery projects. Our DMPK studies are a cost-effective way to create an understanding of the drug metabolism profile of your candidate compound(s)/series. This information, along with key physicochemical parameters, provides a platform to predict the In Vivo PK behavior of the selected compounds.
We have DMPK screening scientists dedicated to both discovery and development, allowing lead candidate selection to flow seamlessly into the development phase. Our discovery and research specialists offer customized DMPK assays to ensure early and late lead candidate optimization. Development studies are designed to satisfy the requirements of international regulatory authorities and to provide safety data to assess the validity of laboratory species as appropriate toxicological models for humans. Our DMPK facilities are networked and utilize validated data management systems for data capture, storage and evaluation.
It is important to understand the key role that drug metabolism and drug-drug interactions play in the efficacy and safety elements of the drug discovery and development process. GVK BIO helps clients identify the metabolic pathways, potential interactions and routes of elimination of their compound though its DMPK services at an early stage.
There are many contract research organizations (CROs) across the globe that handle outsourced DMPK screening services from clients. GVK BIO's DMPK Studies team has experience of handling vast number of studies every year with rapid turn-around times and provide you the quality and depth of data for your to take appropriate decisions.
Advantages of DMPK with GVK BIO
As a CRDO, we help extend DMPK services beyond a CRO. We do not merely serve as a vendor but, help you as a research and development partner. Three advantages that you get by outsourcing your DMPK studies to us are:
Time: Our DMPK studies team provides data back to you in industry-best timelines
Quality of Data: Data from our DMPK Studies is reproducible and accurate
Trained Eye: Doing over 150 – 180 PK studies, 1000 ADME studies and 80,000 bioanalysis gives our DMPK screening services team an eye for detail.
Hence outsourcing DMPK studies to us is viable business option.
Show More »
150 – 180 PK studies / month 1000 ADME studies / month 80,000 bioanalysis / month High quality, reproducible, decision-enabling data and no bottlenecks in bioanalysis Very competitive pricing with volume discounts
the top 5 reasons to choose our services for DMPK Screening
1

Consultative Approach

DMPK services team provides consultative client support from study design, execution, data interpretation and suggestions of path forward.

2

Turn Around Time

Turn Around Time for our core DMPK services is within 7 working days without compromising on quality. This is one of the quickest in the industry.

3

Experienced DMPK Screening Team

Our DMPK screening team has experience in addressing challenging sponsor requirements, working with Big Pharma, Mid-Sized Pharma, Virtual Companies and Academic institutions.

4

High Quality Animals

Local presence of Charles River and Taconic for rodents and Isoquimen for beagle dogs helps us in providing the highest

quality PK

data.

5

Project Management

XLRATE™ project management platform to support integrated drug discovery programs helps in delivering quicker DMPK screening data.
Contract R&D Services for DMPK across drug discovery

Assessment of Physiochemical & In Vitro ADME/DMPK Properties
• In silico properties
• Solubility
• Log D
• Microsomal stability
• CYP inhibition
Optimisation of Physiochemical & Druggable Properties
• Metabolic stability
• CYP inhibition
• Permeability
• Plasma protein binding
• In vivo PK studies (rodent)
• Reactive metabolite
Optimisation of Druggable Properties, IVIVC, PK/PD Correlation
• Permeability
• Plasma protein binding
• PK Studies (rodent)
• PK Studies (non-rodent)
• Target tissue exposure
• Blood/plasma partioning
• IVIVC, renal/biliary CL
• Mass balance
• PK/PD Studies
• Met id (soft spot)
Dose Range Finding, Safety/Tox Assessment, Interspecies Scaling
• Dose range finding (rodent and non-rodent)
• PK/PD Studies
• Tissue distribution
• Food effect
• Metabolite profiling
• Safety profiling
• Toxicokinetics
• CYP induction
• Interspecies scaling
Dedicated Infrastructure of Our DMPK Studies
Bioanalysis Labs (3)
LC-MS/MS- 3200API –1
LC-MS/MS- 4000API – 3
LC-MS/MS- 4500API – 3
LC-MS/MS- 5500API –1
RapidFire High Throughput LC– 1
HPLC-1
Sample Processing/Extraction Unit-2
Vivarium
Stereotaxis apparatus
Isoflurane Anesthesiometer
Surgical Pads
Physicochemical Characterisation
For drugs to be effective they must be able to reach their targets in efficacious concentrations.
A number of physicochemical parameters obtained in the following assays are used to assess the potential utility of compounds as therapeutic agents:
Aqueous solubility (pION, Kinetic and Thermodynamic)
Partition coefficient (log D) BBB and GIT
Ionisation constant (pKa) with spectrophotometer
Chemical stability
Absorption/Transporters
The preferred route of drug delivery is oral administration. Intestinal membrane permeability is a critical characteristic that determines the extent and rate of drug absorption and ultimately affects the bioavailability. The human colon adenocarcinoma cell line, Caco-2, and Madin-Darby canine kidney cell line, MDCKII, are used as an alternative in vitro permeability model. PAMPA (parallel artificial membrane permeability assay) is also used to determine the passive permeability of the compounds.
Permeability/Transporters:
PAMPA: GIT/BBB/skin
Caco-2 (Pgp efflux)/MDCK permeability/BCRP
Skin and buccal permeability by Franz Diffusion Method
Ongoing Developments
MDCK -Transfected ABC transporters (stable cell lines)
SLC transporters: OATP1B1, OATP1B3 and OCT1 (Hepatic)
OAT1, OAT3 & OCT2 (Renal)

Study Outline: Skin Pampa

Study Outline: In Vitro: Skin Absorption Studies (OECD TG: 428)
Distribution
Protein Binding
GVK BIO is a specialist provider of DMPK studies and provide a range of in vitro protein binding studies. The free drug concentration is more closely related to the activity of the drug than the total plasma concentration. Drugs with low protein binding have a large volume of distribution and they can equilibrate rapidly with tissues. High protein binding causes a small volume of distribution, slow equilibration with tissues, and are usually a predictor of elimination by metabolism. We employ Rapid Equilibrium Dialysis approach to measure plasma as well as other matrices protein binding taking Warfarin as the reference control.
Blood Partitioning
Knowledge of the partitioning behavior of a therapeutic compound into red blood cells is important to the interpretation and understanding of a compound's pharmacokinetic profile. A high partitioning ratio may also lead to the accumulation of the compound in red blood cells and therefore, this parameter serves as an indicator of potential hematotoxicity. We use fresh blood to conduct this study taking chloroquine as the reference control.
Metabolism studies are useful in:
Determining the initial rate at which compounds are metabolized
Investigating the major pathways of drug metabolism
Predicting in vivo pharmacokinetic properties
Investigating the potential for drug-drug interaction
At GVK BIO, we conduct the following assays in DMPK:
Metabolic stability in interspecies using S9, microsomes or hepatocytes
Drug-drug interactions
CYP inhibition
Reaction Phenotyping
Reactive Metabolites (CN and GSH trapping)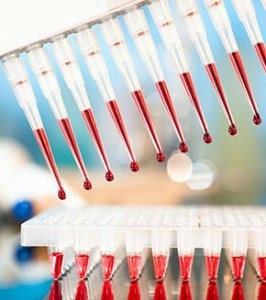 Pharmacokinetic Studies
GVK BIO has the capability to conduct all types of studies related to Pharmacokinetics of BCS 1 to BCS 4 classes of compounds. On an average about 450 to 500 different Pharmacokinetic studies are conducted in rodents (mice, rats, guinea pigs and rabbits) and non-rodents (Beagle dogs). We have expertise in difficult surgeries in mice (Cerebrospinal fluid, Bile and Bronchoalevolar Lavage collection).
Pharmacokinetics Work Flow: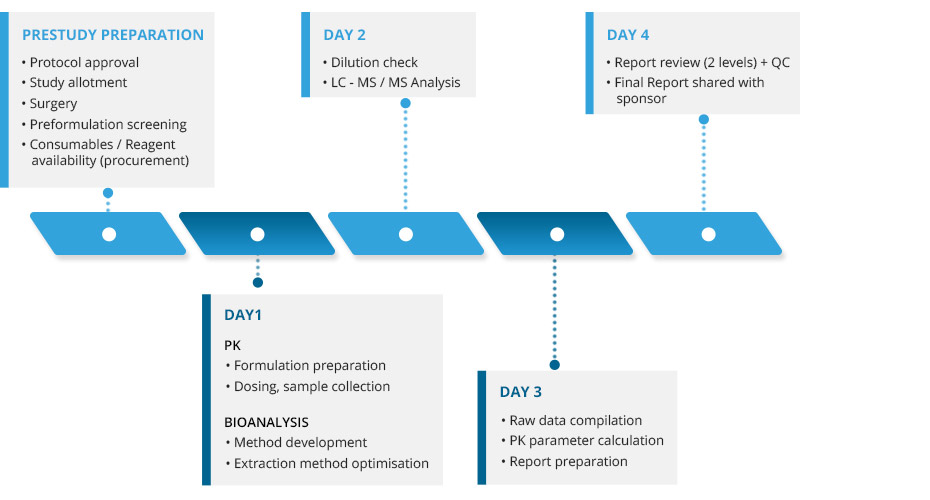 Capabilities in PK Studies: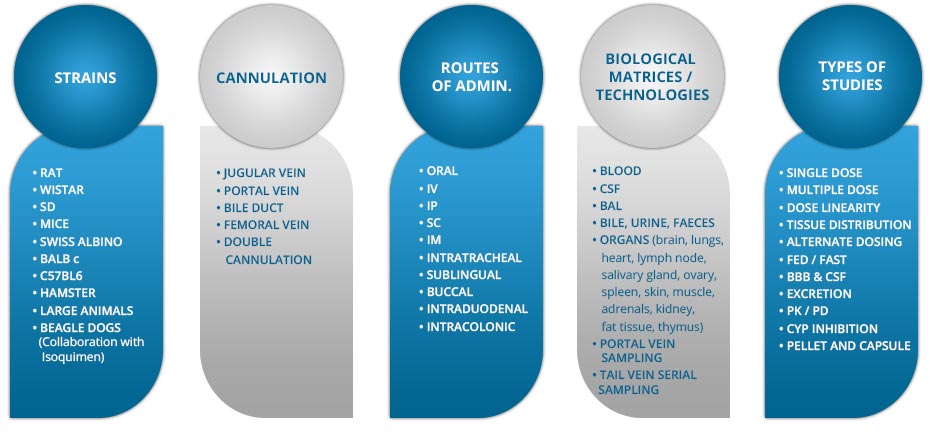 Accreditations, Compliance & Quality Systems:
DMPK Certification and Compliance
AAALAC accredited rodent vivarium facility
In house facility for rodent equipped IVC cages
Regulatory

PHS-NIH approved animal facility
OHSAS (Occupational Health & Safety Assessment Series)
Institutional Animal Ethics Committee (IAEC) constitute to an external member and CPCSEA nominee
Protocols of experimentation study are approved by IAEC and reviewed by the committee
Bio-waste Disposal Management registered under State Pollution Board
EMS (Enviornment Management System as per ISO 14001)
In life part of large animal PK studies with collaborator
Approved Radioactive facility and In House Radiation Safety Officer appointed by AERB
Radiation Safety Committee to monitor Radioactive material use and disposal
Approved by Institutional Bio Safety Committee
DMPK Quality System
Procurement of animals from certified vendors
Documentation of animal health status at receipt
Subjecting all newly arrived animals to quarantine
Physical examination of animals by veterinarian
Subjecting animals for clinical tests:

Parasitological examination
Haematological
Biochemical
Microbiological examination of faeces for pathogenic organisms on blood agar
Feed, water and bedding material analysis

Ethical efforts to avoid pain and distress to animals subjected to experimentation
Anesthesia and euthanasia as per CPCSEA guidelines
Mass Balance Studies
We perform mass balance with non-radiolabeled compounds. We can collect 49 different tissues after perfusion from animals following PK studies.
Annexure: Publications in DMPK Screening Services
As leading DMPK player, we handle the outsourced DMPK services of many research sponsors. We also develop unique DMPK methods in the process of solving the needs of the clients. Here are the publications from our DMPK scientists from 2013.
Publications from DMPK studies team in 2013:

Identification and Reduction of Matrix Effects Caused by Solutol HS15 in Bioanalysis Using Liquid Chromatography/Tandem Mass Spectrometry. J Anal Bioanal Tech 4:166. doi: 10.4172/2155-9872.1000166
Liquid chromatography/tandem mass spectrometry method for quantitation of Cremophor EL and Its applications. J. Anal. Bioanal. Tech. 4(2)., 1-6.
Liquid chromatography/tandem mass spectrometry method for quantitative estimation of Polyethyleneglycol and its application. J Chromatogr,B. 926, 68-76
Determination of Cremophor EL in rat plasma by LCMS/MS: Application to a pharmacokinetic study, J. Anal. Bioanal. Tech. 4(2)., 1-6.
Identification and reduction of matrix effects caused by Polyethyleneglycol 400 in bioanalysis using liquid chromatography/tandem mass spectrometry. Int .J. Phar. Innov., 3, 48-65

Publications from DMPK studies team in 2014:

Atorvastatin potentiates the anti-nociceptive effect of Milnacipran in Carrageenan- induced inflammatory pain model in rats. Int. J Pharm. Therap. 5: 213-219
Effect of Milnacipran and Atorvastatin Alone and In Combination In Rodent Model of Inflammatory Pain. Am. J. PharmTech Research 4:971-979. ISSN: 2249-3387
Liquid Chromatography/Tandem Mass Spectrometry Method for Estimation of Cholic Acid in Rat Plasma, Urine and its Application. J Anal Bioanal Tech 5: 200-214. doi: 10.4172/2155-9872.1000200

Publications from DMPK studies team in 2015:

Breaking the sensitivity limitations of cytochrome P450 oxidation product: Dansyl chloride derivatisation of 4-OH Mephenytoin, a CYP2C19 metabolite and its application to in vitro CYP Inhibition assay. J. Chromatogr. B., 989: 27-36. doi: 10.1016/j.jchromb.2015.02.031
Liquid chromatography/tandem mass spectrometry method for quantitative estimation of solutol HS15 and its applications. J. Pharm. Anal., 5: 120-129. doi:10.1016/j.jpha.2014.09.002

Publications from DMPK services team in 2016:

Preclinical formulation for the pharmacokinetics and efficacy of GBO-006, a selective polo like kinase 2 (PLK2) inhibitor for the treatment of triple negative breast cancer ADMET & DMPK 4: 314-326; doi: 10.5599/admet.4.4.341
Design, synthesis, and evaluation of (2S, 4R)-Ketoconazole sulfonamide analogs as potential treatments for Metabolic Syndrome. Bioorg Med Chem Lett. 26:5825-5829. doi: 10.1016/j.bmcl.2016.10.016.
Drug metabolism – Metabolite identification using advance LC-MS/MS system. Express Pharma May 2016

Publications from DMPK services team in 2017:

Cytochrome P450 Enzymes, Drug Transporters and their role in Pharmacokinetic Drug-Drug interactions of Xenobiotics: A Comprehensive Review. Peertechz J Med Chem Res 3(1): 001-011
A Novel Acyl-CoA: Diacylglycerol Acyltransferase 1 (DGAT1) Inhibitor, GSK2973980A, Inhibits Postprandial Triglycerides and Reduces Body Weight in a Rodent Diet-induced Obesity Model. Journal of Pharmaceutical Research International; 2017; doi: 10.9734/JPRI/2017/36835

Publications from DMPK services team in 2018:

Preclinical pharmacokinetics, antitumor activity and single ascending dose tolerability of GBO-006 nanosuspension, a selective polo-like kinase 2 (PLK2) inhibitor. Drug Invention Today | Vol 10 • Issue 1 • 1-9
Design and synthesis of functionalized piperazin-1yl-(E)-stilbenes as inhibitors of 17α-hydroxylase-C17,20-lyase (Cyp17): Bioorganic & Medicinal Chemistry Letters: May 22.
Our DMPK services teams for business development are located in Boston, Research Triangle Park, New Jersey, California Bay Area, Sydney, Melbourne & Brisbane. Feel free to contact us for a DMPK quote.