A valuable partner, to depend on from gene to protein studies, GVK BIO provides the customized reagent generation solutions as recombinant proteins expressed in various hosts. Having tremendous experience in recombinant reagent generation, the team has purified over 50 active recombinant proteins to the highest purity and generated around 60 cell lines as stable and transient protein expression systems for several drug candidate screenings supporting structural and functional studies.
The molecular biology capability involves making clones with the gene of interest in an expression vector right from cDNA synthesis. The solutions include RNA isolation, cDNA synthesis, codon optimization for choice of expression host and site directed mutagenesis for mutated proteins etc., for the generation of protein of interest. With customized cloning strategies, we offer expression in a wide variety of expression systems like E.coli, Yeast, insect cells and mammalian cells.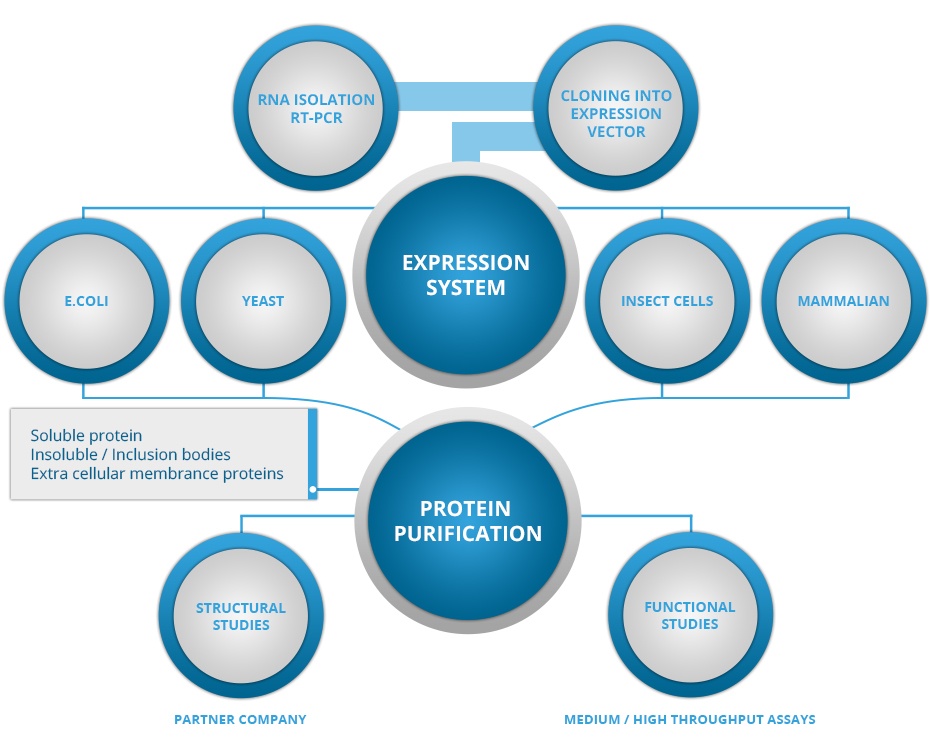 Integration of cell culture, purification, product analysis and characterization allows us to deliver a complete package of purified products together with associated biochemical and analytical data.
We offer extensive expertise across all the purification strategies throughout the program in achieving highly purified active proteins with an apt purification technique on an AKTA Explorer platform. Our expertise includes, tagged protein purification using affinity column purification and also making the untagged protein using several traditional purification proteins from recombinant cell extracts and tissue extracts in the native form.
The core cell line generation capabilities at GVK BIO aims to generate customized cell lines, expressing the protein of interest as stable or transient with any genetic alteration required from simple, single point mutation to more complex genomic manipulations using the latest protein tags, luminescent and fluorescent probes. A well established and dedicated BSL2 lab facility enables us to make Lentiviral constructs for protein expression in mammalian cell lines as Tet on/off system.
We provide Reagent Generation solution as a standalone solution and as a solution integrated with Assay Development and Screening. Our state-of-the-art infrastructure has helped us satisfy clients, in terms of timely delivery and cost-effectiveness.
Our Reagent Generation Solutions
At GVK BIO, we are adept at cloning the gene of interest into choice of expression vector, right from cDNA synthesis. We have extensive experience in site directed mutagenesis/truncated/fusion protein construction.
We routinely use RT-PCR for cDNA synthesis from isolated RNA and also construct cDNA libraries. The cDNA is cloned into expression vectors and the confirmed clone is sequenced using primers for every 250-300 base pairs. We employ various strategies like Gateway, TOPO, Tet-on/off, Fusion and Tag Constructs, based on the client's requirement.
We also perform mini to giga scale preparation for DNA isolation. The isolated DNA is subject to several quality control checks, agarose gel electrophoresis, restriction digestion, endotoxin testing and DNA sequencing using primers for every 250-300 base pairs.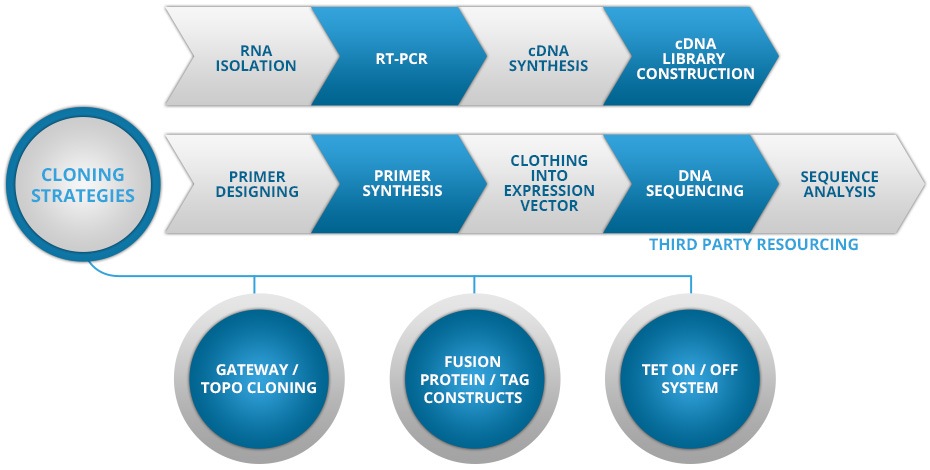 With a processing capacity of 5-50 litre culture volume, we offer extensive expertise across all the purification techniques using AKTA Explorer platform. The steps employed in purifying the proteins mainly focus on purity, yield and recovery. Complete knowledge and hands-on experience at each step of purification enables us to select an apt technique for the required protein purity and yields to generate milligram to gram level of reagent.
Expression
E.coli – (Bl21(DE3), BL21(DE3)pLysS, BL21, Rosetta.2(DE3), C41 and C43)
Insect cell – (Sf9, Sf21)
Mammalian – CHO and HEK293
Yeast – Scaling up capabilities up to 10 litres using Wave bioreactor
Purification
Ion Exchange – (cationic and anionic)
Affinity – (NiNTA, GST, MBP, Protein A, etc.)
Hydrophobic – (Phenly, Butyl and Octyl sepharose)
Hydroxyapatite, Size exclusion – (Superdex, Sephacryl, superose)
Tag removal – On column/off column cleavage Thrombin, Factor Xa, TEV and Enterokinase
Characterisation
ELISA
Western blot
SDS page
Native page
Gel Filtration
Tricine page
Functional activity assays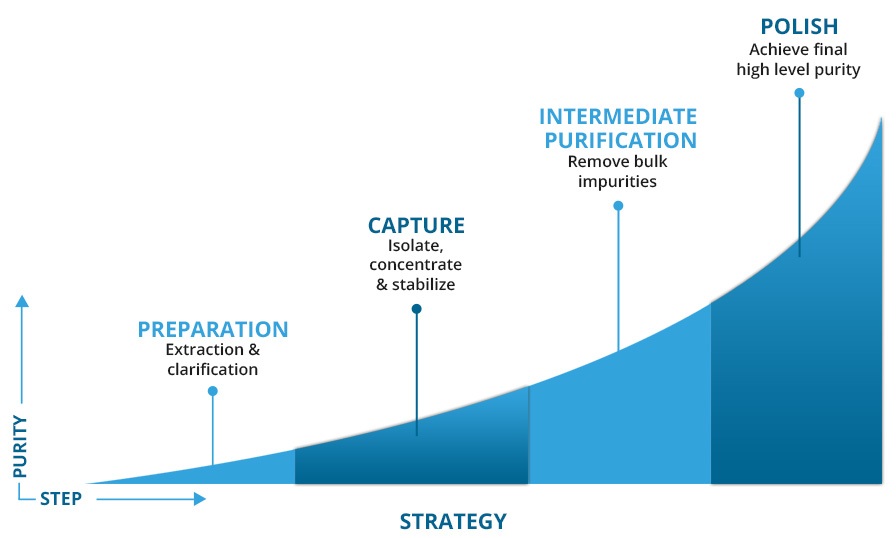 GVK BIO has well-established mammalian Cell Culture labs with state-of-the-art infrastructure supporting mini to large scale culture preparations using cell factories. Our vast experience in expressing the drug targets in mammalian systems enables us to express and validate more than 30 GPCRs, various ion channels and transporters.
We have the capability of performing transient and stable cell line generation.
We have extensive experience in various human and animal cell lines for stable and transient expression of target proteins.
Our expertise includes protein expression in HEK293, AD293, CHO, MDCK cell lines.
We have stably expressed more than 40 functionally active target proteins.
Our validated stable cell lines include GPCR, ion channels and transporters.
Expressed proteins are routinely assayed for detection of expression levels and also used for screening potential drug candidates.
Baculovirus-insect Cell Expression Systems
Baculovirus-insect Cell Systems are considered a good system for recombinant glycoprotein production due to the eukaryotic nature of the host. We have established a standard optimization procedure to determine the conditions for expressing soluble proteins using a Bac-to-Bac expression system.
The variables that we may alter to increase the efficiency and productivity of baculovirus expression are:
Plaque purification of recombinant viruses.
Comparison of expression level of different infection parameters: MOI=1, 2, 5 and 10.
Comparison of expression level of different harvest times: 72, 96, and 120 hours after infection.
Comparison of expression level of different infection cell densities.
To summarise, we can provide:

Functionally active human protein up to 500 mg from E.coli.
Up to 100 mg of human protein from insect cell culture.
Stable cell lines expressing protein of interest – 5 billion cells/week.
Use of cell stackers and cell factories for large number of cell production.
Use of wave bioreactor for insect Cell Culture.
Large scale membrane preparation for Radio ligand binding assays.
To get quote on your reagent generation requirements, please drop a request for quote. Our reagent generation solutions team will get back to you soon.