GVK BIO is a leading player in Custom Chemical Synthesis providing the most comprehensive product range, innovative products, and enabling technologies for chemical research. we specialize in delivering required quantity of chemical substances with superior quality and within agreed delivery timelines. With systematic product development methodology and proven delivery capabilities, we can handle complex chemical synthesis projects requiring fast turnaround times with succinctly communicated results.
Partnering on custom synthesis with GVK BIO is an efficient, cost-effective means of ensuring the smooth and timely passage of new drug compounds through the pipeline. We have 15 years experience of satisfying the organic synthesis requirements of drug discovery companies and research institutions worldwide.
Chemical synthesis is an essential part of drug development. GVK BIO offers a full range of custom chemical synthesis and manufacturing services to the life science and chemical industries. Our Custom Chemical Synthesis capabilities are further enhanced by single site offerings from Process Development to Scale Up and manufacturing enables us to offer flexible solutions to meet your requirements.
Process Research, Development, and Optimization: Research and development of synthetic pathways for the production of even the most complex molecules and multi-step synthesis pathways
Synthetic Route Design and Optimization: Full literature searches, ensuring that the synthetic route we create for you is the most efficient and optimized route possible
Small- and Large-Scale Chemistry Capabilities: Custom synthesis in quantities ranging from milligrams to multi-kilogram orders. We help you bring your projects from idea to production
Advanced Synthetic and Analytical Platform: Our chemists work in well-equipped facilities with full access to scientific literature and the reaction databases. We can handle complex distillation, purification, and scale-up protocols
Expert Project Management: We keep you up to date on the progress of your custom synthesis projects every step of the way! Expect weekly project updates as your order moves toward completion
Cost-Effectiveness and High Efficiency: We carefully reduced the number of steps to lower costs and increase the efficiency, yield, and throughput of the process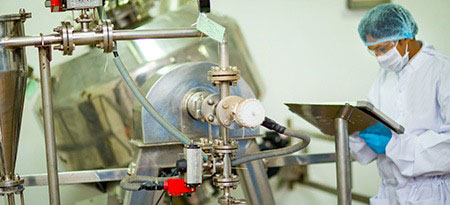 GVK BIO's Custom Chemical Synthesis team has proven track record and expertise in:
Complex Chiral Synthesis
Heterocyclic chemistry
Carbohydrate Chemistry
Speciality & fine chemicals
Small molecule and intermediates
Building blocks
Multi-step synthesis
We follow a stringent and rigorous process to develop a robust and scalable process for your targets in custom synthesis.