GVK BIO has the state-of-art analytical chemistry laboratory,  comprising of a wide range of sophisticated techniques/instruments. Analysis and purification for variety of compounds including Heterocycles, Nucleotides, Natural products, macrolides (< 2500 Da) are handled on a routine basis. In addition we also carry out Purification of Library compounds, Peptides (up to 50 mer), Lipids, Tetra phosphates & light sensitive materials. We also carry out Impurity isolation and characterization
Service Offering
Structure Elucidations and Confirmations by Spectroscopy and Spectrometry
Assay by NMR and HPLC
Achiral and Chiral Purifications by SFC and preparative HPLC
Method development by HPLC, LCMS, GC and GC-MS
High molecular weight determinations by Orbitrap (HRMS)
Physical characterization by DSC, TGA and PXRD
Elemental analysis by CHNS
Wet lab analysis.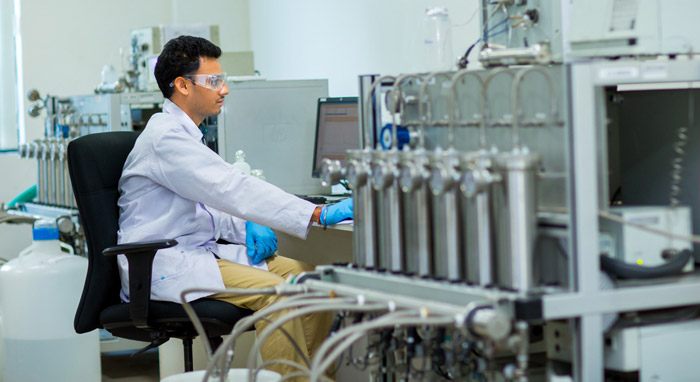 Impurity Profiling
Isolation and characterisation of unknown impurities from starting materials, intermediates, APIs and formulations utilising the strong skills in preparative HPLC isolation and structure elucidation by NMR using coupling constants, 1D & 2D experiments like NOESY, ROESY, HOESY, HMBC, HSQC, etc., Assignment of absolute configuration by chiral derivatization agents (Mosher's method).
Isolation and structure elucidation of degradants of APIs.
Purity determination of raw materials, intermediates and APIs by quantitative NMR (QNMR) and by HPLC assay methods using standard compounds.
Analytical Method Development & Verification Methodology
Analytical method development and validation of API (in accordance with the ICH and OECD guidelines to support scale up lab) requirements and other client specifications.
Capable of doing short term and long term (accelerated and real time) stability studies of APIs and Intermediates and forced degradation studies.
Residual solvent method validation (in accordance with the ICH requirements), complete analytical chemistry solutions for residual solvents estimation, residual metal content and genotoxic impurities.
Polymorph/powder characterisation by power XRD technique.
Purification Capabilities
GVK BIO has expertise in isolation, purification and characterisation of new chemical entities and for known compounds. We also offer SFC and mass-based high throughput library purification, purity estimation of NCEs by reverse and normal phase chromatography, determination of enantiomeric excess using variety of chiral columns, high throughput purification and isolation of compounds (chiral and achiral) from milligram to kilogram scale.
List of Analytical Instruments
List of Analytical Instruments
HPLC with PDA, UV, ELSD and RI detectors
UPLC with PDA and ELSD detectors
LC-MS (SQ & TQ) with front end UPLC connected with PDA and ELSD
LC-MS – HPLC Ion trap
LC-MS/MS HRMS (Orbitrap & Q-TOF)
Preparative LC with PDA & ELSD
MS directed Prep. HPLC
NMR (300 MHz, 400 MHz & 500MHz)
Head Space – GCMS or HS-GCMS
GC with Head-space -FID
Melting Point Apparatus
Water purification system
SFC – Analytical
SFC – Preparative
Lyophiliser
DSC
TGA
FT-IR
UV Spectrophotometer
Polarimeter
Auto titrator
CHNS Analyser
Powder XRD
ICP-MS

Solubility is checked in ACN, Methanol, THF, DMSO, dilute acids/bases

Feasibility study is performed based on the probable stability of the compound with respect to buffer

Purification is carried out in the Normal phase mode
If the input quantity is more than a gram, the TAT depends on the quantity to be purified