Drug repositioning has seen an overwhelming growth in the last few years as drug discovery, drug development and pharmaceutical companies realise their drug development pipelines are gradually becoming less efficient in accomplishing the expected results. Drug repurposing includes combination of approaches including computational biology and in vivo studies/in vitro studies to develop and confirm hypothesis.
Our Drug repositioning service provides unique features in identifying novel indications for your existing drug. Through big data analysis combining molecular data, literature information and phenotypic data, a mechanistic pathway is constructed for your drug. This is further related to potential diseases and symptoms, hereby mapping out the possible indication space for your drug.
GVK BIO is interested in strategic partnership with big pharma/biotech companies, generic drug companies and CROs to identify and develop repurposing candidates at reduced costs. In addition, we are interested in partnering with Non-profit organisations, Patient advocacy groups and Academia to develop therapeutic options for unmet medical needs through drug repurposing.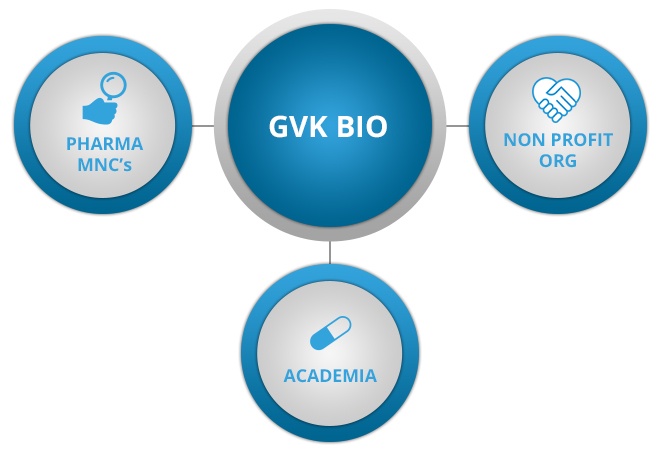 Pharma MNC's
GVK BIO is interested in partnering with MNC pharma companies as a collaborative research and identifying repurposing solutions for their proprietary compounds.
Non Profit Organisations
GVK BIO is interested in collaborating with non-profit organisations in developing treatment options for unmet medical needs.
Academia
GVK BIO is interested in partnering with academia in identifying the drug repurposing solutions and also for the development of new drug repurposing technologies.