In-Silico Based Drug Repurposing
GVK BIO offers unique solutions to avoid unnecessary investments and create new assets, thereby, strengthening the drug development pipeline in line with client's business and commercial interests. The repurposing activity may be initiated using drug, target or disease.
Drug Centric Repurposing
Drug Centric Repurposing deals with identification of alternate indications for a given drug or compound present in different stages of drug development life cycle. This offering covers generic drug, marketed drug, innovative compound, failed compounds and possible novel combination treatment.
Generic Drug
The main objective of generic drug repurposing is to create niche value by identifying new route of administration for novel/existing indication with the scope of generating new formulation based or therapeutic use IP.
Innovative Compound/NCE
A list of potential alternate indications for innovative compound can be generated using GVK BIO's repurposing platform and/or compound's proprietary data from partner.
Marketed Drug
The proposed offering helps to extend the patent by identifying novel indications or novel route of administration. This repurposing strategy is beneficial in reaping the benefits from the current drugs in cost effective manner.
Shelved Compounds
GVK BIO's Repurposing Platform will identify the novel drug-target-disease relationships for the shelved compounds, which are safe but not efficacious for the original indication. Evidence based hypothesis is generated to support the new indication to extract the extra value from existing assets.
Disease Centric Repurposing
Disease centric services oriented towards identification of possible therapeutic molecules or candidates for selective diseases from the pool of known drugs/compounds. This approach specifically addresses the need to identify treatment options for chronic, rare and neglected diseases, which lack safe and effective treatment options for disease stabilisation.
Target Centric Repurposing
Target centric repurposing service identifies the possible new indications for the drugs or compounds, which acts through a particular target. The proposed new indications are target specific and may be applicable for all drugs/compounds of that target. This approach mostly examines the role of target in pathophysiology of the diseases to propose novel alternate indications.
Drug Repurposing Research
In addition to standalone in-Silico drug repurposing service, GVK BIO offers end-to-end drug repurposing research service, which includes in-Silico hypothesis generation, IND enabling pre-clinical proof of concept experiments and clinical trial development. GVK BIO is one of the leading drug discovery and development CRO with capabilities in biology, chemistry, formulations, small scale & large scale chemical synthesis, BA/BE studies and clinical trials. GVK BIO is considered as one-stop-shop for drug repurposing and drug development service.
GVK BIO has discovery services (Chemistry and Biology), Formulation R&D and Manufacturing capabilities to provide end to end drug repurposing research solutions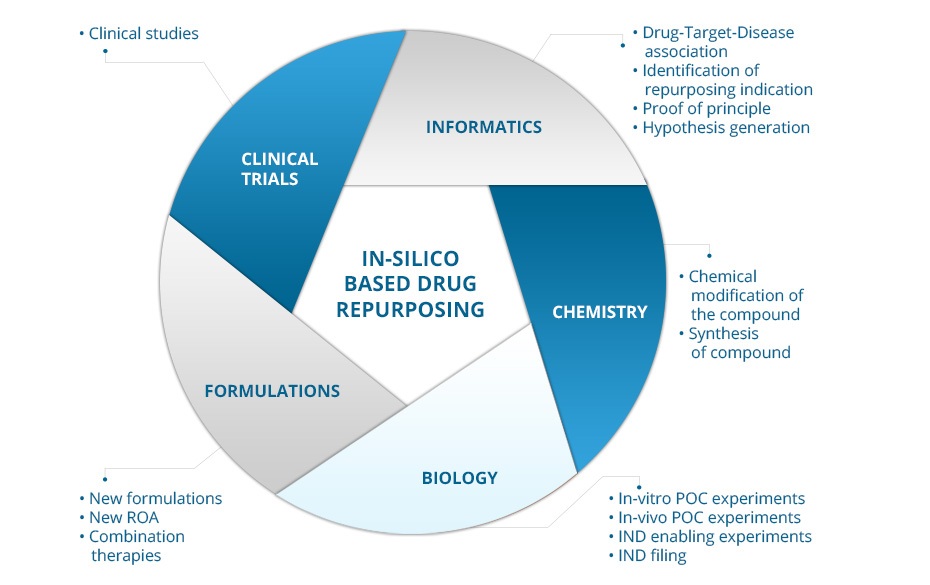 Value Proposition
A rich customised repurposing oriented database
Comprehensive in-Silico technologies and proprietary algorithms
Great team comprised of experienced scientists in the areas of biology, bioinformatics and drug discovery & development
In-depth scientific analysis by experienced scientists
Prior experience in handling the generic and innovative compounds
Successful track record of advancing repurposing recommendations to preclinical stage
Experience in creating unique patentable value from generic drugs
World-class, technology-driven clinical research services
An innovative compound with low efficacy but good safety profile was received from client originally indicated for osteoporosis. Using GVK BIO's repurposing integrated platform a novel mechanism of action was identified and the compound was proposed for TB and Pulmonary hypertension with novel first in class mechanism of actions.
COMPOUND IS SHELVED DUE TO LACK OF EFFICACY (SAFETY PROFILE IS GOOD)
REPURPOSED FOR TB AND PULMONARY HYPERTENSION
CURRENT STATUS
PRE CLINICAL STAGE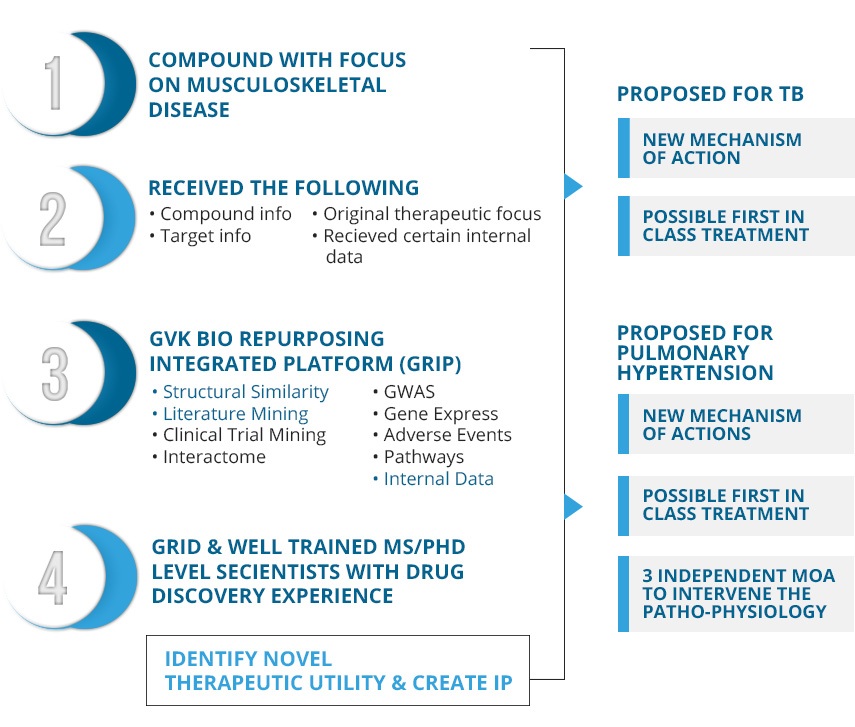 A generic drug company approached for identifying repurposing opportunities for known marketed drug with current clinical use in CNS disorders. Scientists at GVK BIO have proposed this drug for hearing loss and cystic fibrosis with new route of administration.
KNOWN DRUG IN THE MARKET REPURPOSED FOR HEARING LOSS AND
CYSTIC FIBROSIS
CURRENT STATUS
PRE CLINICAL STAGE
A failed compound with lack of efficacy but good safety profile was received from client originally indicated for Alzheimer's disease. Neither the mechanism of action nor the target profile was known for this compound. Using compound proprietary data and GRIP, GVK BIO scientist proposed retinal degeneration as possible alternate indication.
COMPOUND IS SHELVED DUE TO LACK OF EFFICACY (SAFETY PROFILE IS GOOD)
DO NOT KNOW THE TARGET OF MECHANISM OF ACTION
REPURPOSED FOR RETINAL DEGENERATION
CURRENT STATUS
PRE CLINICAL STAGE