We offer a broad range of analytical services for complex research needs. We perform method development, validate and transfer Good Manufacturing Practice (cGMP) compliant methods for a broad spectrum of pharma compounds. We also perform stability analysis of drug products and active ingredient (APIs), packaging as per ICH, quality control testing and release as per cGMP requirements.
Our team is capable of providing documentation support – CMC, IND-CTA, MAA and DMF in line with the regulatory requirements across the globe.
Equipped with one of the best infrastructures in India for Analytical services, GVK BIO is well positioned to meet the needs of complex analytical challenges.
Our capabilities:
A wide range of chromatographic separation techniques (HPLC, UPLC, GC, SFC and IC) and detection techniques (UV, FL, MS, ELSD, RI, FID, TCD, CAD, etc.) to meet the requirement of different types of compounds including the ones that are non-chromophoric in nature.
Stability-indicating assay and/or related substances methods for drug substances & products (stress stability testing as per ICH).
Dissolution (IR, ER and MR)
Residual solvents by HSGC
Enantiomeric separation by normal phase HPLC & GC
Clinical comparator assay and dissolution
Method development, qualification, validation and transfer
Release and in-process testing
Stability protocol development and program management
Stability storage, testing and data trending
Compendial testing (USP, EP, BP, JP, etc.)
Analytical support for cleaning validation & process validation
Isolation of impurities and purification of compounds using Preparative LC & SFC
Reference standard characterisation & qualification

Materials characterization
Thermal analyses
Particle-size distribution
Spectroscopy (NMR, Mass, FTIR, GC-MS, UV, etc.)
GVK BIO supports extensive structural chemistry services for small and large molecules that include:
Impurity and degradation product identification and structural elucidation
Characterization of API, product, reference standard and other pharmaceutical ingredients
Molecular weight determination for large biomolecules
Support for regulatory documentation for IND, MAA, DMF, etc
Analytical reference standards qualification
Method Development
Robust analytical method is one of the keys to quality product development and faster regulatory approval. At GVK BIO, we develop product specific analytical methods, which are best suitable for intended use of application with an approach of 'right first time'. We help our partners globally to develop various analytical methods at efficient cost and meeting global quality and regulatory standards.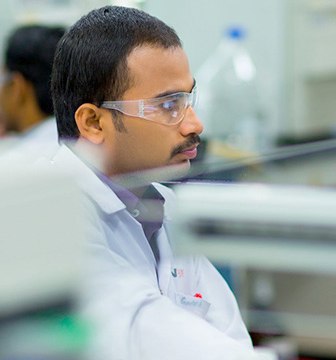 The Analytical Services team has expertise in developing analytical methods for:
Reverse engineering
Identification
Assay
Related impurities
Chiral purity
Preservative anti-oxidant content
Residual solvents
Particle size distribution
In-vitro dissolution
Physicochemical and wet chemical methods
Various advanced and conventional analytical techniques & instruments are adopted for developing analytical methods like:
Chromatography (HPLC, UFLC, GC and TLC)
Spectrophotometry (UV-visible)
Laser Diffraction Technology (Particle Size Analyser)
Potentiometry (Auto & KF titrator)
USP-1 and USP-2 Dissolution tester (Automated & Manual)
Titrimetry
Our analytical services team develops all methods based on a thorough scientific literature search and review, which leads to appropriate selection of analytical technique and development design for the targeted product/analyte. Performance of Instruments is ensured throughout the experimentation, which is handled by highly trained and skilled analysts. Robustness testing and key preliminary validation performance parameters are integral to our development design method.
We excel in development of In-Vitro dissolution methods, which plays a critical role in drug development process especially for Solid oral dosage forms where absorption of drug is necessary. We take great care while establishing a discriminating dissolution method with emphasis on following key elements:
Dissolution media selection based on pharmacokinetic parameters
Relevance to In-vivo performance
Sink conditions
BCS Classification of API
Selection of relevant analytical technique
Method Validation
Method validations are carried out as per latest regulatory guidelines for assay, related impurities, chiral purity, preservative & anti-oxidant content, residual solvents, particle size distribution, in-vitro dissolution, physicochemical and wet chemistry methods.
At GVK BIO, Analytical method validations are executed in alignment with stringent SOP, which is based on ICH Q2 guidelines and in adherence to cGMP & GLP requirements.
Validation experimentation includes:
Specificity
Forced degradation studies
Precision
Accuracy
Linearity
Quantitation limit/Detection limit
Stability of analyte in solution
Robustness studies
System suitability
Good documentation practices are followed throughout the process and an exhaustive and scientifically documented validation report is provided to the customers.
Forced Degradation Studies
Forced Degradations at the method development stage provides us useful information about drug product characteristics and also establishing stability indicating behaviour of analytical method.
At GVK BIO, forced degradation studies are an integral part of our method development and validation in order to establish stability indicating behaviour of methods and product characteristics. Forced degradation studies include exposure of analyte to harsh hydrolytic, oxidative, photolytic, thermal and humidity conditions.
Method Transfer
We ensure successful method transfer to our client manufacturing sites with:
Validated robust analytical method
Scientific rationalised scope with predefined limits
Active involvement from qualified analysts
All the analytical methods are transferred through protocol bound study in accordance with latest regulatory
guidelines such as USP (1224).
Instrument details
HPLC with PDA, UV, ELSD and RI, CAD detectors
UPLC with PDA and ELSD, FLD detectors
LC-MS & LC-MS/MS – UPLC-PDA and ELSD
LC-MS – HPLC Ion trap
LC-MS/MS Q-TOF
Preparative LC with PDA and ELSD
MS directed Prep. HPLC
NMR (300, 400 and 500 MHz)
Head Space – GCMS & HS-GCMS
GC with Head-space – FID
SFC – Analytical
SFC – Preparative
Lyophiliser
DSC
FT – IR
Auto titrator
CHNS Analyser – Elementor
UV spectrophotometer
Ion Chromatography with Conductivity & Ampirometric detectors
Polarimeter
Other analytical instruments
Dissolution tester with auto sampler
Brookfield DV-II + viscometer with cone plate spindles for ultralow volume analysis & RV DV spindles
Melting point apparatus
Osmometer
Refractometer
Disintegration test apparatus
Friability tester
Microscope
To get a quote for our analytical services, request a quote immediately. We will get back to you at the earliest.